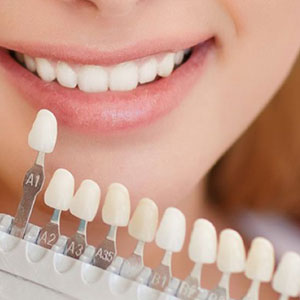 Broken and missing teeth can affect many areas of your life – from your smile to your confidence to your ability to enjoy the things you eat. These changes can lead to further issues like increased risk of decay, changes to your alignment and bite resulting in TMJ problems or further broken teeth, and the loss of bone in areas where teeth are missing. We would love to help you restore your smile to where you deserve it to be and be able to function like you desire.
Tooth-Colored Fillings
Tooth-colored fillings or "composite resins" come in subtle shades to perfectly match your natural smile. They can be used as a solution to cavities, correct cracks or gaps in teeth, or covering stains and discolored teeth. They provide you with a result that blends in with the rest of your mouth. Tooth-colored fillings can be used for patients of any age. We keep up with the latest research and techniques to help your fillings to last the longest possible. With smaller cavities we can often times use an air abrasion system to "powerwash" the cavity without you feeling anything! We love using this technology in this situations so you can return to your day without being numb for a couple of hours after!

"Very good experience. Tonya and Bridgette at the front desk give a warm welcome to begin the appointment. Then two crown preps at one time is a tall order, but Dr. Jenny and Jo made it comfortable and very nearly painless. Very professional. Everyone in this office is friendly and encouraging to a life-long dental-phobe. I have no anxiety about any procedures they recommend."
– MERILYN W.
Crowns and Bridges
Crowns and bridges can be used for teeth that are badly decayed or broken in order to restore them back to health and protect them for the future. Often referred to as "caps", crowns are a covering that encases the entire tooth for protection. They are recommended when there isn't enough tooth remaining for just a filling, to protect a tooth from fracturing, or to restore a broken tooth. They are the ideal way to protect a weak tooth from the incredibly strong forces we put on teeth on a daily basis. We use a tooth-colored porcelain or zirconia material which are both strong, durable, and feel like your natural teeth. We prepare the tooth to remove any decay or cracks and the restoration is made in a high quality dental lab that we partner with. When we place the final crown, we make sure it fits right and you go home with a restored smile!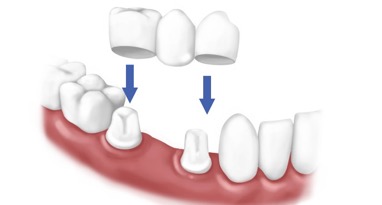 Bridges are multiple crowns or "caps" put together to span gaps created from a missing tooth or teeth. When missing a tooth it can make it uncomfortable to speak, eat, or smile. We always recommend dental implants when teeth are missing. We can use implants to replace a single missing tooth with one crown or multiple teeth with a bridge. If you are not a candidate for implants, a bridge is a great alternative. A bridge made custom for your mouth helps restore the balance and keep teeth from shifting.
Dentures and Partials
If you are missing several or all of your teeth, we want to assure you that you have options to achieve the smile you deserve again! Whether you have recently lost teeth, or you have been living with old dentures that don't fit well anymore, we would love to help you get what you desire.
If you are a candidate for dental implants, we always recommend them to replace missing teeth. Implants are the best way to prevent loss of the jawbone and the the other effects that come along with tooth loss. Implants help to preserve the bone, keeping the structure of your mouth and face the way it is! Implants can be used under dentures and partials to greatly stabilize and retain an old or poorly fitting denture to provide the most natural feel. The ADA has approved implants as the gold standard for denture support.